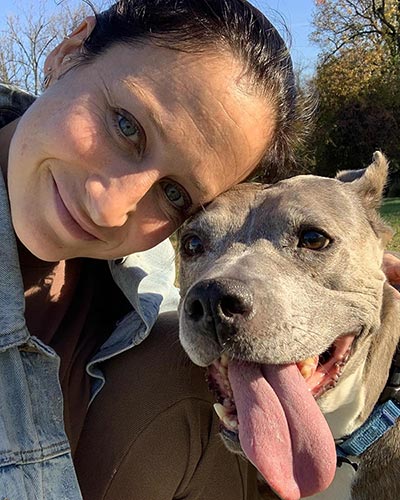 On July 1st we sent my girl off surrounded by love and peace. We believe she was about 14. Muffin came into my life after PSPCA humane law enforcement rescued her and she endured a long hold at the shelter (a year and 8 months) while her abuser awaited trial. Timing was aligned when we got word that she was released just as she was having a moment in my lap. I took her into foster care.
It became clear Muffin was not going to be a safe dog for most homes, I committed to her. Muffin was not a "project," I accepted her limits and aimed to manage her. My girl was brilliantly smart and quite athletic, I loved training her to play sports and do tricks and I let her avoid the things that made her scared. From a place of acceptance, she overcame more than I could have ever imagined. She always held her boundaries in the places where she needed to, and this forced me to become a more flexible and creative trainer.
Her life was an evolution, she persevered through trauma, trusted her helpers, pushed herself to keep learning, and held her ground. Her different phases and accomplishments are too many to list. My biggest goal for muffin was that she would be and feel safe. She became a trusty family pet, and she left us unafraid. Good job, good girl. Mad love and respect for my friend, mighty to the end.